How to Prevent Infection through Keeping COVID-19 from your Face
Your face is the gateway to the Coronavirus infection. Don't let your hands open the gate!!
You touch your face 16 times an hour.
Note how many are touching their faces! Stop the face touching, stop the virus.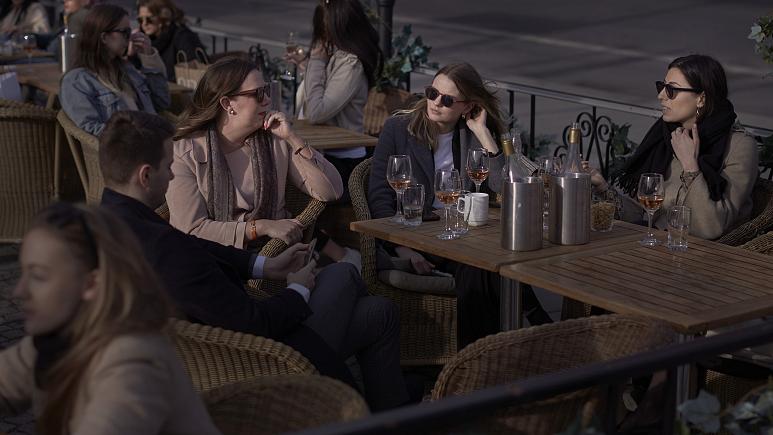 How to stop touching your face. https://www.healthline.com/health-news/how-to-not-touch-your-face
For discussion on LOCKDOWN options and government responses see
https://covid-19-plan-b.com/index.htm
The COVID-19 virus has a relatively long life on surfaces, so you cannot be sure that anything you touch outside your home is not infected!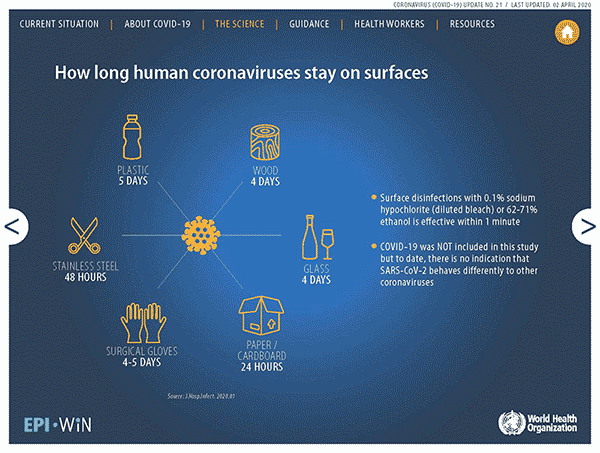 It cannot be emphasised enough that TOUCHING near your mouth, eyes or nose with possibly virus contaminated hands is the most likely cause of infection.
Why?
Unless you can be certain that your hands will not touch your face, consciously or unconsciously, a shield or similar barrier is needed. The best solution would appear to be a full face shield that has side pieces that prevent your hands also touching your hair and head when removing the shield. A veil or similar covering over the whole face will help, but wash your hands before removing, and don't touch your face with possibly contaminated hands when removing.
A surgical mask will prevent you from touching your mouth and nose, but not your eyes, and needs to be removed without contaminating your face.

To stop spreading the virus to others, wear a cloth mask.
Wear a full face shield to stop getting the virus.
Cloth masks may become compulsory in SA post-lockdown
23 April 2020 According to Business Insider SA, South Africans may be compelled to use cloth masks when using any form of transport when the national lockdown is set to lift at the end of April, according to a draft document by the presidency.
Hand sanitisers must also be made available, and all passengers will be required to sanitise their hands before using any form of transport.

An excellent suggestion and one for which President Cyril Ramaphosa should be commended.
It means that when travelling your hands are less likely to come in contact with the virus, and your fellow passengers are less likely to spread germs. Source https://www.businessinsider.co.za/cloth-masks-may-become-compulsory-in-sa-post-lockdown-2020-4.
A shield will give more certain protection especially against face touching when surrounding surfaces may not be virus-free, such as when in public or the workplace amongst others.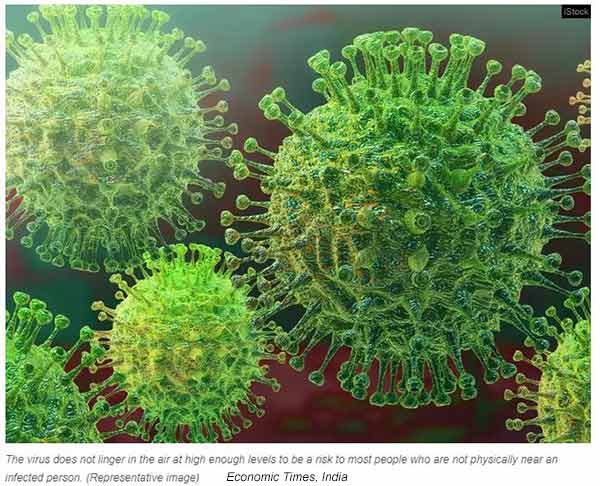 These are three of the exact instructions given by the WHO and echoed by every health organisation but in the wrong order!
Source: https://www.who.int/emergencies/diseases/novel-coronavirus-2019/advice-for-public
1. Wash your hands frequently
Why?
Washing your hands with soap and water or using alcohol-based hand rub kills viruses that may be on your hands. 2. Maintain social distancing
Why?
When someone coughs or sneezes they spray small liquid droplets from their nose or mouth which may contain the virus. If you are too close, you can breathe in the droplets, including the COVID-19 virus if the person coughing has the disease. If you are social distancing infection this way is unlikely. 3. Avoid touching eyes, nose and mouth.
Why?
Hands touch many surfaces and can pick up viruses. Once contaminated, hands can transfer the virus to your eyes, nose or mouth. From there, the virus can enter your body and can make you sick.
Why the wrong order? Because the highest and for most the only risk of a non-medical person getting infected is unknowingly and repetitively touching their face after their hands have inadvertently come in contact with a contaminated surface.
The WHO instructions should make it clear that every time you touch a possibly contaminated item or surface, you need to wash your hands before touching your face, and if you cannot control your hands they require a barrier between their hands and their face like a face shield.
The WHO should also clarify the meaning of the new phrase "social distancing", explaining it rather in the more familiar terms of "personal space", "elbow room" or "breathing space".
The so-called super-spreaders maybe those infected who spit a lot when talking.
Who, when, and why wear a Mask or Shield?
"In an analysis of 75,465 COVID-19 cases in China, there was no airborne transmission reported." The WHO says without evidence of airborne transmission, and it does not recommend the public wear masks to prevent catching COVID-19, which means that the WHO and most research says that you cannot normally catch the virus floating around in the air around you. Medical workers who may be in very close contact with patients need masks, preferably the N95; also shields since their risk of having a patient spray into their face is high. To protect others and if there is any chance you have contracted COVID-19, wear a type of cloth mask to prevent contamination escaping, which may be compulsory in some countries. It will impede you catching the virus through your mouth and nose, but offers no protection should you rub your eyes with contaminated hands. If you adjust or touch the mask and your face with contaminated hands, that could transfer the infection to your face.
For protection against catching the virus, wear a shield that covers your face and prevents the touching of your face.
Logical Conclusion
The only way the virus can enter your body is through your eyes, nose and mouth, (except through an open cut) and there are only three ways the infection can get to your eyes, nose mouth.
One is being too close
to an infected person who coughs, sneezes or spits close enough to land on your face.
Two is touching
something that an infected person has touched, coughed, sneezed or spat on, or something that has been touched by someone who has touched something an infected person has touched, coughed, sneezed or spat on and so on, and then touching your face with hands that carry infection.
Three is your face touching
something that has the virus.
The unarguable conclusion must be if you wear a mask or shield that protects you from human spray and allows nothing contaminated to touch your face, the virus cannot enter the body, i.e. you are protected.
Abundance of caution procedures
"So far, evidence suggests that it's harder to catch the virus from a soft surface (such as fabric) than it is from frequently touched hard surfaces like elevator buttons or door handles," wrote Lisa Maragakis, MD, senior director of infection prevention at the Johns Hopkins Health System. Source https://www.webmd.com/lung/news/20200401/coronavirus-on-fabric-what-you-should-know Although some emergency workers throw everything, they were wearing into the wash as they get home, and if the soap doesn't get the virus, the hot water above 133F or 56C will.Don't forget that buttons are hard surfaces.Your shoes can pick up the virus, so either leave them outside or wipe them with sanitiser